Machine Vision Cameras for Ultraviolet and Polarization Imaging
When it comes to choosing industrial cameras for machine vision applications, systems integrators have a vast range of options. Certain applications require specialized cameras, however. For example, some machine vision and imaging tasks require cameras with sensitivity beyond the spectrum of visible light. Others need cameras capable of inspecting glass or other highly reflective materials.
For systems integrators seeking area-scan cameras with these capabilities that can also operate at high speeds and high data rates, Emergent Vision Technologies now offers 10GigE cameras and 25GigE multispectral cameras with ultraviolet sensitivity, and 10GigE cameras with polarized image sensors, all of which feature Sony CMOS sensors.
Beyond the Visible With Ultraviolet 
Both the 25GigE Bolt HB-8000-SB-U and the 10GigE HR-8000-SB-U feature Sony's 8.1 MP UV Pregius S IMX487 CMOS image sensor, which offers increased sensitivity in the UV waveband from 200 nm to 400 nm. The IMX487, a 2/3″ CMOS sensor with global shutter functionality, captures UV light with high efficiency. Like other Sony Pregius S sensors, the IMX487 features a back-illuminated pixel structure on a stacked CMOS sensor, which delivers distortion-free, high-speed imaging capabilities. 
The 25GigE HB-8000-SB-U achieves 201 fps while the 10GigE HR-8000-SB-U reaches 145 fps. These GigE Vision, GenICam-compliant cameras target multispectral imaging applications such as semiconductor inspection, waste plastic sorting, high-voltage cable inspection, printing inspection, high-resolution microscopy, and luminescence spectroscopy.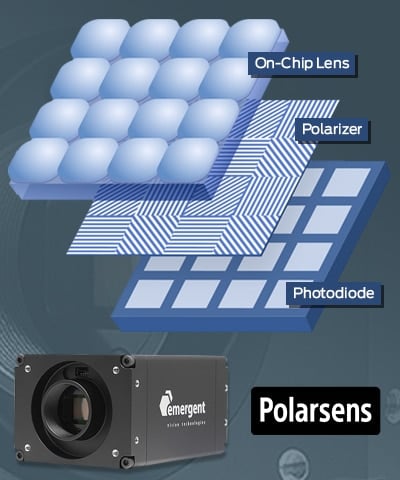 Inspect Shiny, Reflective Materials With Polarized Image Sensors
For applications of polarization technology, including the inspection of plastic, glass, semiconductors, and LCDs, Emergent Vision Technologies offers four different cameras based on Sony's Polarsens CMOS polarized sensor technology. Polarsens implements on-sensor polarization technology, with polarization elements fabricated directly onto the silicon under the microlens. In color sensor versions, the color filters are located directly under the polarizers. In these sensors, tiny wire-grid polarizers over every lens have 0°, 45°, 90°, and 135° polarization angles in four-pixel groups. The four-pixel groups are interpolated, reducing the image sensor's overall functional resolution by 4x, meaning that one group of four pixels is equal to one pixel of output. By interpolating images from each four-pixel group, the image sensor captures substantial information about the linear polarization taking place on the surface of the object being reviewed, which allows for a highly accurate definition of the exact direction and intensity of the polarization within each four-pixel group.
Emergent Vision Technologies offers four 10GigE cameras with Sony Polarsens technology:
To learn more about our new multispectral cameras or polarization cameras, please contact us today.